Puerto Madryn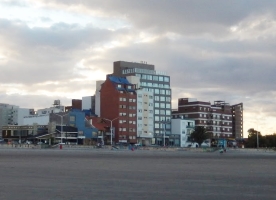 This photo was taken from the beach at Puerto Madryn. The Dazzler Hotel is the grey tower in the middle.
We decided to base ourselves in Puerto Madryn. I was originally looking to stay in Trelew as it is closer to Punta Tombo, however Puerto Madryn is more convenient if you want to see other wildlife such as the southern right whales, fur seals and elephant seals. The town has lots of restaurants, gift shops, travel agents and car hire companies.
We stayed in the Dazzler Hotel. It was right on the beach and there were plenty of restaurants within walking distance. Also there are quite a few hotels on the sea front, and also several hostels in the town.
Flights
At the time of our trip (November 2014), the only airline flying to Trelew Airport from Buenos Aires was Aerolineas Argentinas. I was concerned as I had read many horror stories online about this airline regarding delays and cancellations. The departure time of one of our flights was rescheduled about a month before we flew, but I was informed of this and given plenty of notice. Our flights were on time, the planes were modern and as far as we could tell, the airline seemed to be running efficiently.
Getting there from the airport
It is about an hour's drive to Puerto Madryn from Trelew airport. It is a small airport, and there is a kiosk in the arrivals hall where you can book the transfer on a mini bus. Down to pure luck we managed to get the last two seats on this bus. At the kiosk they ask you which hotel or hostel you are staying at and they drop you off outside. Our stop was one of the last ones so this did make the overall journey time quite long. For our return flight we asked the hotel to book us an airport transfer, and it turned out to be the same minibus service.
It is possible to hire a car at the airport, we decided not to do this as our flight was arriving at around 10pm and we didn't know whether the rental car companies would still be open at that time (they were).