El Pedral Safari Tour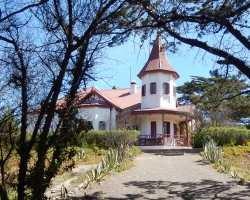 The attractive main house of El Pedral estancia, which was built in the 1920s.
I first came across El Pedral Lodge when I was looking into places to stay near Peninsula Valdes. El Pedral is an estancia or ranch located on Punta Ninfas to the south of the Golfo Nuevo. On their 20,000 acres of land they run a sheep farm, but are also making the most of the wildlife that lives on the estate. The shoreline is home to a colony of elephant seals and a Magellanic penguin colony which started to breed there in 2009. You can also see southern right whales and if you are lucky, orcas.
A stay in one of the eight rooms at the lodge includes daily excursions to see the wildlife, with the possibility of snorkelling with sea lions. It sounded amazing! Such luxuries do come with a cost though and at the time of our trip the prices were roughly 4 times the cost of a stay in a Puerto Madryn 4* hotel.
We decided instead to go on the safari day trip that is offered by the estancia. We were picked up from our accommodation in Puerto Madryn along with five others, by Pablo our guide. The road to the El Pedral estancia is all gravel, it is about 75km from Puerto Madryn and the drive to the estancia takes just over an hour. Once in the ranch it's a further 40 minute drive over fields to the coastline. The transport is usually a landrover, but due to technical difficulties we were in a minibus.
Wildlife
There was wildlife to see along the way including guanacos (small llamas which are native to Patagonia), rheas (like ostriches) and hares. There are also maras which are Patagonian hares on the estancia, although we didn't see any on our trip. At one point we had to stop the minibus to let a family of tinamou chicks cross the path.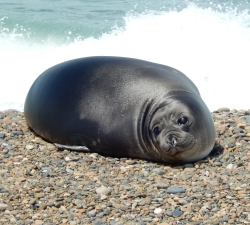 Close encounters with elephant seal pups at El Pedral.
The first stop was a colony of elephant seals. They are huge, and have these big soulful black eyes. The adult males have trunks, hence the name, and are particularly massive and can weigh up to 4 tonnes. When they are fighting they rear up and we were instructed to crouch down to approach them so that they didn't think we were being hostile. This meant we could get incredibly close and we sat on the beach with them for about an hour which was fantastic.
When time was up, we were reluctantly dragged away from the seals and made the journey to the main house for lunch. We were treated to home-made beef sausages with salad and bread, accompanied by red wine.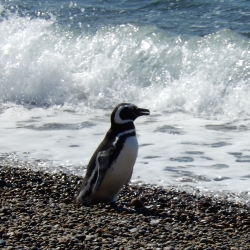 We sat on the beach for an hour with the penguins.
After lunch we drove to the penguin colony. It was similar to Punta Tombo, with penguins sat on their eggs under bushes and in burrows right next to the path. What made it nice was that it was just our small group at El Pedral. Although Punta Tombo was great there were a lot of people there. The penguins were curious to see us, and seemed to enjoy having their photos taken. We were able to sit just metres away from them on the sunny pebble beach with giant petrels flying in circles over the sea.
At one point, the penguins suddenly looked alarmed and quickly waddled up the beach. Pablo pointed out the reason, there was a large male fur seal hunting in the sea. Every so often he would pop his head up. As we were watching him, two southern right whales appeared very close to the shore. It felt like being in a wildlife documentary!
I am glad we had the opportunity to do both trips. If I had to choose, I would go on the El Pedral safari tour rather than visit Punta Tombo. It was closer to Puerto Madryn, and it was so much nicer to be in a small group with no-one else around. Punta Tombo certainly has more penguins, but also more tourists.