About Patagonia Penguins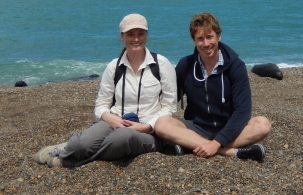 Sat on the beach with elephant seals in the background.
My name is Laura Bromley, I live in the UK. In November 2014 my husband and I went on the trip of a lifetime to Argentina. We visited Buenos Aires and the waterfalls at Iguazu, but for me the highlight of the trip was the chance to see penguins in the wild.
We travelled to the Peninsula Valdes region in the Chubut province of Patagonia. We arranged the trip ourselves rather than through a travel agent, and this website is aimed at providing information to people who are planning a similar trip.
All the photographs on the website were taken on my compact camera, which shows how close you can get to the wildlife!